We have all been having balance bike training over the last couple of weeks. We are learning how to keep safe, control the bikes while have lots of fun!!!
Receptions balance bike training
We've been making the most of the weather and getting really busy.
Reception release the butterflies!
Reception release the butterflies
Receptions Class Assembly
Photographs of your super busy children including our Gold Medallist, Finn.
We are having lots of fun investigating 2D shapes this week. We have been talking about the properties of the shapes. How many corners it may have or has it got a curved edge.
Last week the children spent some time thinking about babies all around the world. Valuing that we are all the same however we live many different lives. We thought about babies in different countries and how some grown ups need to carry their babies as their roads may be too dusty or difficult to push them in a pram. All the children had a great time carrying the class babies and teddies!!
A great afternoon in the garden!!
Thank you to Year 3 for coming and reading us their fantastic Iron Man stories, they were brilliant. We will be writing about our farm trip next week and taking them to share with the Year 3's!
Throughout this final term, in Reception, the children will be experiencing a change in the way the classroom functions. Look at all these busy independent children, they''re going to be super ready for Year 1!!
We have had a GREAT day at Mrs Dowson's farm today. You only need to look at the photos to know that the weather could not dampen the children's fun!
Bye Bye Chicks! Reception went to Mrs Dowson's farm and our very fast growing chicks went back to the farm that they came from!! We had a great time hatching and looking after them and wish them lots of fun with their family.
The children made and flew their own kites this week so they could see the power of the wind. This was to help them understand that the Holy Spirit may not be seen however has great power.
By 9.30am this morning we had a surprise chick hatch and by the end of the day we had a total of 4 chicks!!
Thank you to everyone for the superb Easter Bonnets we saw in the parade this morning. The children had a fantastic time and all looked fabulous. Happy Easter holidays everyone.
Reception have mysteriously been left some eggs to look after. They have been thinking really hard about what could be inside them and have used a selection of books to find out what animals lay eggs. We have now put them into the incubator and can not wait to see if we hatch spiders, dinosaurs, chicks, ostriches, seahorses, or even a platypus.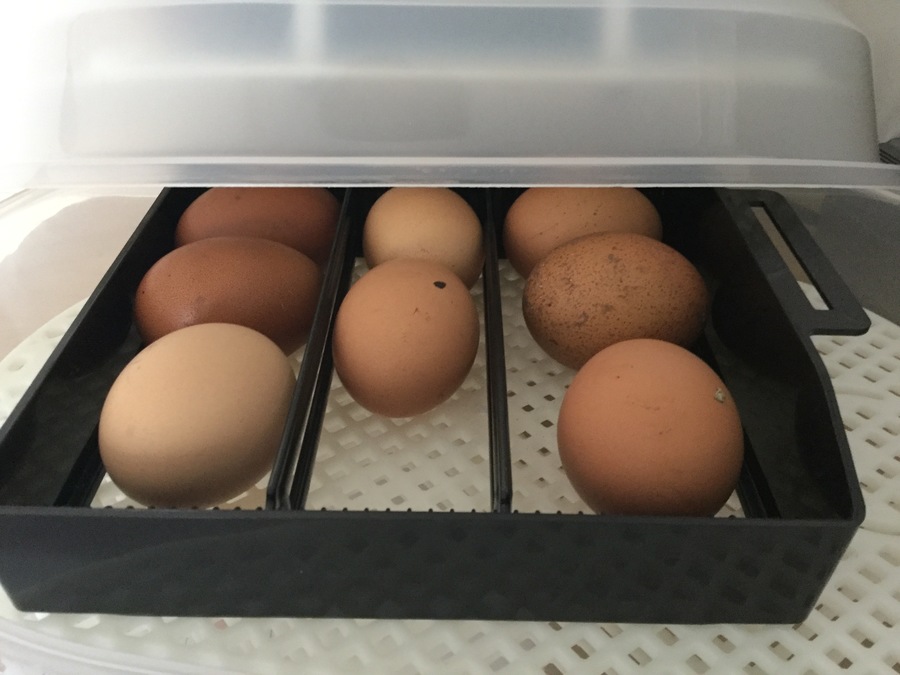 Week 1 of our Road Safety Training completed! You listened so well Reception. A BIG thank you to our helpers too.
Thank you to Mr Gaughan and year 6 for showing Reception some great sporting activities.
A visit from the guitarists and singers inspired Reception to make their own instruments and form a band!!
Little Lumpty continues to be our topic focus. This week we designed and made protective clothing for our "real egg" Lumpty's. Of course we had to test our designs so hurled them off the wall!! What fun we had finding out that "hard" clothing was the best protection.
Our Easter Garden, we have been learning out about the events of Holy week.
We have moved on to measuring height this week and have been using towers of bricks to measure beanstalks! We've also started to grow our own to measure!! We thought about what else we could use to measure things, yes socks for us!!!!
We have read the story of Little Lumpty this week. The children have made a superb Dumpty town with LOTS of Little Lumpty's!! Please ask your children about what they made for the town.
We have started our new RE topic of Lent this week and have been thinking how we can "grow in love." Some children were selected and then set the task of inviting a friend to lay with them they do not usually play with. They all had great fun together playing new games with Mrs DiFranco. Over the coming weeks we will be thinking less of ourselves and more of others.
Growing in Love
Look at all our busy bees!!!
The children have been investigating length this week. They have been ordering a range of ribbons according to their length. They also were set a challenge to make play dough worms that were either longer or shorter.
Receptions Measuring week
Today's Mother's Day Cafe was a great success. The children worked really hard on their serving skills and made everyone very proud of how they have grown throughout this year. Well done Reception.
The invites have been written and sent, the place mats have been made and laminated, waiters and waitresses have been trained, cakes decorated, shortcake baked, menus prepared and flowers created! We're all ready for tomorrows Mother's Day cafe.
Building our core strength in PE today.
We have celebrated a great World Book Day today. We shared stories with Year 3 and our buddies in Year 6. We also had a visit from Faye's Grandma who read us all two books, thanks you.
Learning about Chinese New Year.
Thank You Father Michael for coming into school and helping the children to understand about Ash Wednesday.
On Tuesday afternoon the children were set a challenge to make their Gingerbread Man an outfit that would keep him dry crossing the river. The children all worked in small groups and had to work together and design a suitable outfit from a range of materials. We then tested them out !!! We quickly learnt that the materials that keep you warm do not always keep you dry too!! We finally celebrated our hard work with a snack of Gingerbread Men that had not been near any water!
Reception's Fashion designing afternoon!
Here comes the snow................well for a couple of hours!!
Receptions encounter with snow!!
Today we have been learning to tell the time, we had a great game of "what time is it Mr Wolf?" while practising our time telling skills!
What time is it Reception?
We have been reading the Gingerbread Man this week, just look at all the learning that has been going on!
Reception's Gingerbread Men
We have been sharing in our Maths lessons and following the right coloured road in PE. We had to be very careful not to crash though!
Receptions busy week
The children have been really enjoying our new creative bench in the classroom. First of all they create their design on paper and then set to work bringing their design to life!!
Reception's creative children
We've been inspired by The Little Red Hen traditional tale and have all been bread making, because we all helped we got to eat the the bread too!!
Reception's Bread Making
We have been learning about David and Goliath and the children have made their own giant!! We learnt with GOD's help we too can be brave.
Reception's Goliath
Reception's letter formation: j & v
We have had a trip to Church today to meet Father Michael. He has explained and shown to us how different things are used in Church to celebrate different masses. Thank you Father Michael, we really enjoyed our visit.
Reception's church visit
During this half term we will be looking at some of the Old Testament stories and using them to inspire our art. Can you guess which Bible story we have looked at this week?
Reception's BIG fish
We have been busy adding two groups of objects together in Reception and then recording our number sentence in our books! WOW Reception, you keep amazing us all.
Reception's busy maths work!
Reception's letter formation: f & L
Christmas dinner with the whole school.
We had a great time at today's Christmas party. We also had a special visitor!
Reception and Santa
On Monday this week we were treated to a visit from All Hallows performing arts roadshow. We had a great time and watched amazing dancers, singers and musicians. We even got to join in with some festive singing!
reception letter formation. h b
reception letter formation. E U R
Reception's Letter formation : O C K
A very successful dress rehearsal today for this years "Little Angel" Nativity.
A HUGE well done to all our Reception children on their very first performance.
Thanks Mrs DiFranco for another great PE lesson. Look at the skills of our Reception children, amazing !
Reception's Baptism Powerpoint
Please enter some files.
Reception's Letter Formation: M, D, G
Inspired by our Superhero topic, just look at the wonderful sock superhero puppets that the children have been creating.
Reception's Superhero Sock Puppets
Some of the children have been learning new skills during our PE lessons with Mrs DiFranco.
Reception's PE with Mrs DiFranco
This morning Reception and Year One went to St. Mary Magdalen's Church for baby Mary's baptism. Thank you to Father Michael for making it such a informative baptism, we learnt to much about being part of GOD's family. We celebrated after with cake and juice!
reception's: letter formation; P I N
We have had a very creative time during this week. We have been looking at the art work of "Andy Goldsworthy" and as you can see the children have been really inspired by this. Jayne and Shivani visited us from Kingsfold Library and told us about their services as well as treating us to reading a few of their books. The children really enjoyed this. The children also had the chance to share their own Baptism photographs which resulted in much conversation, the photographs are now displayed in class. We will be visiting church next week to see Father Michael, he will be giving us a real experience of a Baptism and how this is so important to being part of the family of Jesus.
Reception's creative week
Thank you all so much for the Autumn leaves you have sent it. The children have had a wonderful time sharing the book "Leaf Man" and making their own leaf art.
We have had great fun during our week learning about Judaism, we made a HUGE Menorah with our paper chains.
Reception's Menorah
Our BIG focus this week has been our soup making. We are harvested the vegetables from the school garden, prepared, cooked and finally enjoyed our delicious soup. What another great week.
Reception's soup making
Just look at their happy faces!
Reception's happy faces!
Receptions learning through play.
Letter formation for the sound "s,a and t." The children have been learning the "s" sound this week and will learn "a" next week. Please help them to practise the cursive formation.
Reception: letter formation
Today we have been building up those gross motor muscles and using pedal power!!!! Please have a look of some photographs from this weeks activities.
Reception's busy week
The children have now completed their first full week as a whole class and what a busy week it has been. We have done PE, (a number of times!) we have learnt how special we all are to GOD, we've had whole class maths and phonics lessons and finished the week with a lovely afternoon of energetic stations to build our core strength.
Please enjoy looking at the photographs; this is a great chance to view them with your child as they can act as a prompt to help you find out what they have been busy doing in school!!
Reception's Busy week